A manual-focus SLR, automatic exposure with user selected aperture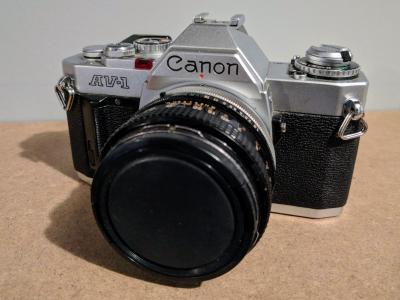 This, along with the AE-1, was one of the first film cameras that I purchased in 2009 that started me down this rabbit hole. I got both cameras, the power winder, and a 50mm ƒ/1.8 all for either $25 or $30 from a local seller. One of the cameras had some light leaks when I ran my first test roll through it, so I stripped out the old seals and replaced them with some adhesive-backed black felt from a craft store.
I really like this camera, despite the fact that the AE-1 (and the AE-1 Program, which I don't have) is the more popular camera, both when it was new and currently. Aperture priority is how I most often used my digital gear, so it was very familiar to me.
Canon FD Lenses
FD 50mm ƒ/1.8
FDn 50mm ƒ/1.8
FDn 28mm ƒ/2.8
FDn 70-210mm ƒ/4 Macro